The NUGGET FEST LEGACY
GET YOUR NUGGET AT THE AAGP NUGGET FEST!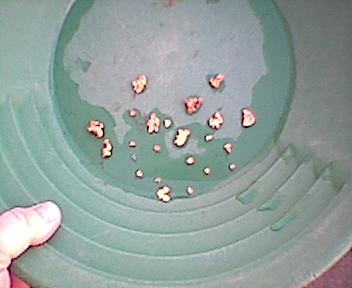 The Famous AAGP COMMON GOLD DIG!
GOLD, FUN AND MORE GOLD!
That's what everyone gets at the AAGP Commercial Common Dig on May 17th! The AAGP Commercial Common Dig sponsored by the Arizona Association of Gold Prospectors, the premier Arizona GOLD prospecting club for common digs. It is designed to allow AAGP members and non-members to participate in and help conduct a commercial placer GOLD mining operation using commercial water recovery methods to help recover more GOLD! All major equipment will be furnished at the site. Every clean-up brings more GOLD and plenty of happy faces at the end of the day for the famous GOLD share split! All participants will work on the Common Dig and receive a full share of the recovered GOLD at the GOLD SPLIT! The Dig Site is accessible to both passenger cars and trucks. PARTICIPATION IS LIMITED to the first 20 to sign up and SPACES FILL UP FAST, so reserve your place on the AAGP Commercial Common Dig ASAP going online to AAGP Commercial Common GOLD Dig or by sending and making your payment payable to Arizona Association of Gold Prospectors - P.O. Box 35281 - Phoenix, AZ 85069-5281. The GOLD share "blind-pick" is conducted in order of payment received so first to pay gets first pick! If you want to recapture the fun and the excitement of the (G)old West and GOLD mining in Arizona, call (623) 934-6882 to sign up and get your share of the GOLD at the AAGP Commercial Common Dig!

DIRECTIONS: From Central Phoenix take I-17 North to the Carefree Highway 74 exit. Exit, turn left at the stop sign and go west @ 29 miles to Castle Hot Springs Road West at Morristown between mile markers #s 1 & 2. Turn right(paved road going North for 2 miles) and follow the directions that were sent to you when you signed up for the Dig.

DIRECTIONS: From Glendale or the West side of Phoenix take Grand Avenue Northwest past Morristown to the Carefree Highway 74 intersection. Exit and go East for 1.5 miles and turn left onto Castle Hot Springs Road West(paved road going North for 2 miles) and then follow the directions that were sent to you when you signed up for the Dig.
HURRY, SPACES STILL AVAILABLE!

Click below to sign up for the Dig!

AAGP Commercial Common GOLD Dig
Five Days of Fun and GOLD Mining
The Arizona Gold Mining Adventure has been a long kept secret known only to a very few people who truly enjoy GOLD prospecting and especially GOLD mining. It's been a hit with all including celebrities who demand their privacy while enjoying the Old West. When the word started getting out and others expressed a desire to participate we've decided to open up the adventures for others to enjoy as well. Arizona Gold Mining Adventures are held at the Paydirt Mining Company commercial placer GOLD mining operation located in the GOLD rich San Domingo Placers area southeast of the city of Wickenburg and north of Morristown Arizona.

Your Arizona Gold Mining Adventure will consist of a total of five great fun-filled GOLDen days beginning on a Monday and ending on Friday. On your first day you will get your accommodations situated and you will participate in group professional GOLD prospecting lessons with emphasis on Dry Washing for GOLD in the desert. During the next 4 days you will help set up and run a real commercial placer GOLD mining operation. On the fifth day after lunch we will shut down the operation, clean up the equipment and SPLIT ALL THE GOLD found at the operation! Everyone attending the Arizona Gold Mining Adventure the full 5 days will receive an equal split of the GOLD found on their 5 days of participation. A "blind drawing" will be held so everyone has an equal chance to get any one of the GOLD shares. In the case of large nuggets a seperate drawing will be held. Please note that there is a strict limit of 10 paid participants during each Mining Adventure! This helps increase the share of GOLD each participant will receive at the end of the Adventure during the GOLD split and after 5 days of prospecting and commercial mining this can be a nice amount of GOLD, especially with today's GOLD prices. Both individuals, couples and groups are welcome to participate. Be sure and get your share of the GOLD and sign up for the Arizona GOLD Mining Adventure.
AAGP MEMBERS GOLD DIGS
The AAGP also has GOLD Digs for AAGP members only. These are decided upon at the monthly AAGP meetings and they are then announced on the website at AAGP Club GOLD Dig. There are many benefits for members to participate in these club digs as it helps you learn where the claims are and also where the GOLD on the claims can be found. It's like having a lot of prospectors helping you to find the GOLD! So be sure to come to the meetings and help get the next club dig up and running and then sign up to make sure you're included. AAGP Club Digs are free to all members!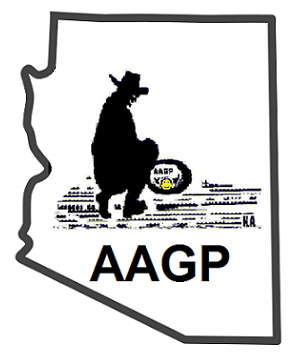 Your Links To
The AAGP Website
AAGP's Website
Gold Prospecting Lessons & Adventures
Sign-up for the Dig
The AAGP Phoenix Chapter Meetings
Join the AAGP Now!
AAGP Mining Shack
The AAGP Annual Calendar of Events
Current GOLD Prices
Desert Jewels
AAGP PRESENTS
DESERT JEWELS
April GOLD Prices Hit An All Time High!
I was just looking at our March 6, 2003 Newsletter and the price of GOLD was at $355.30 per oz. back then! I then looked at our September 8, 2008 newsletter and GOLD hit $1030.00! Earlier this year the price of GOLD hit around $1930 so GOLD has increased it's value SIX(6) times in the last 9 years! For the last couple of weeks it's hovered around $1680.00. This is a very exciting time for us as GOLD prospectors now and if you haven't joined the AAGP yet, then you better hurry up and get your membership and maps ASAP so you can get out there and get your share of the GOLD!
JOIN THE AAGP
Welcome To The AAGP Newsletter!
Thank-you everyone for signing up for the AAGP on-line newsletter. I hope you find the content enjoyable and informative. This is where you can find out about the latest events going on in the AAGP and local GOLD prospecting. Members are encouraged to share their GOLD prospecting finds and experiences with others through this newsletter. Please feel free to let us know what you like to see here for your viewing pleasure.

AAGP
P.O. Box 35281
Phoenix, AZ 85069
AAGP Online Newsletter Sponsors
BETTER TOTAL HEALTH brings to you online a great selection of some of the best
All Natural Health Products.